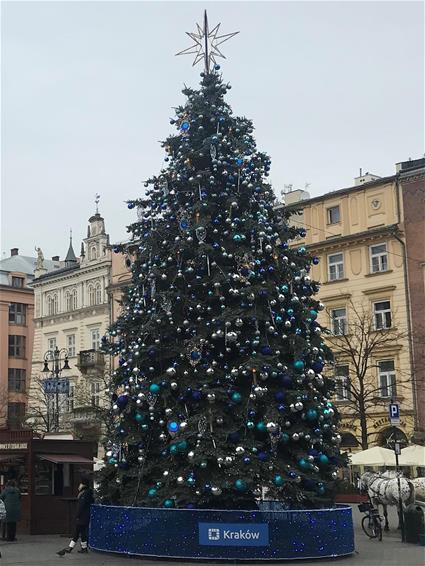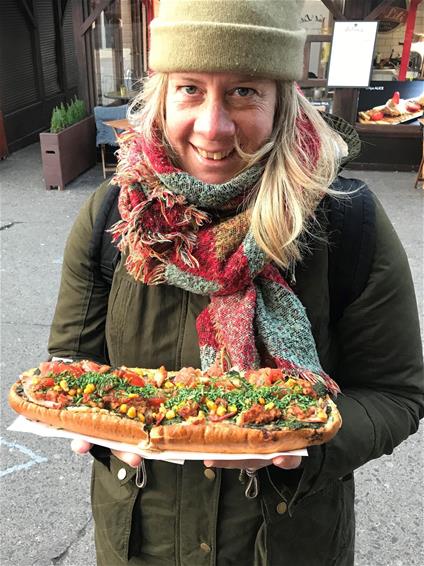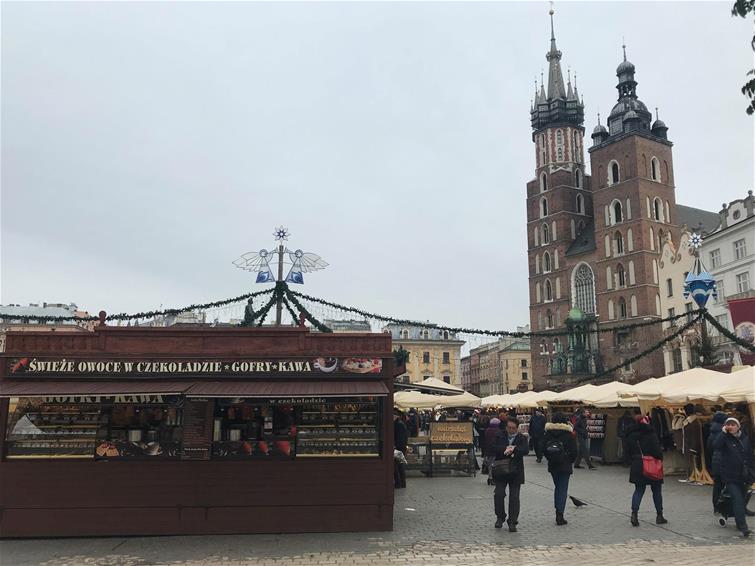 A UNESCO World Heritage Site, Krakow is filled with a delightful mix of architecture old and new, wonderful medieval towers, quintessential European squares and a varied history. Visiting in early December, we felt as though we had walked into a fairytail entering Rynek Glowny, the Old Town main square. One of the largest squares in Europe, the old buildings and churches had a light dusting of snow, there were beautiful horsedrawn carriages clip clopping along the cobbles and twinkling Christmas market in full swing – a magical scene.
Krakow is a small city and whilst there is a good tram and bus system along the main routes, it is a city for exploring the back streets. We walked everywhere, although for anyone short on time or after easier exploration, there's an abundance of electric buggies whizzing around on tours or simply transferring tourists between main sights.
On our first night we did a 'Food on Foot Tour' to not only experience Polish cuisine and culture, but to also gain hints and tips from a local to maximise our time in Krakow. A progressive supper, we started in a wonderful cellar bar just off the main square, steeped in satirical theatrical history and packed with locals. Over our beer and 'oscypek', a salty smoked sheeps cheese snack from the Tatra Mountains, our guide Mateusz introduced himself and our jam-packed itinerary for the evening ahead. Moving on to a popular self-service restaurant we sampled a variety of traditional 'zupy' (soup) including zurek (rye), ogorkowa (pickle) and borsch (betroot). For the main course we worked up an appetite walking to Kazimierz, the Jewish Quarter, for pierogi (dumplings), golabki (meat stuffed cabbage) and placki ziemniaczane (potato pancakes) washed down with a Polish IPA, before ending the evening in a local bar for sernik (cheesecake) and bison vodka! Mateusz was excellent, enthusiastically explaining about local food, culture and history behind the independently operated bars and restaurants, plus gave us many top suggestions for places to visit during the rest of our stay.
Despite our tummies still full from the previous evening, the next morning we headed to a farmers market recommended by Mateusz, Stary Kleparz, a 15 minute walk north of the Old Town. Full of delicious fruit, vegetables, cheese, bread, honey and sausages, the market was bustling with locals and offered prices less than half of the main tourist markets. We had a wonderful time sampling various treats and left with a rucksack brimming with local goodies!
Another locals spot we were keen to try was Kielbaski Pod Hala Targowa, an old communist van on the side of a main road offering late night BBQ sausages, as it was sold to us! With absolutely no glamour and after having queued for 20 minutes (it is popular!), we were given a delicious sausage, crispy on the outside and juicy on the inside, with a white roll and mustard. If you like rustic, quirky and don't mind jostling with the locals, it is a fun experience!
We felt we could not visit Krakow without including a visit to Auschwitz and despite fair prior knowledge, nothing can prepare to seeing the torture and living conditions prisoners were subjected to. On an informative guided tour we were walked around the extremely well preserved Auschwitz I, with no sombre sight spared. After a short break we were taken to Auschwitz II-Birkenau, which although mainly demolished by the Nazis in an attempt to destroy evidence of the camp, the open area gave realisation to the vastness and there is enough still standing to catch a glimpse of the brutality of the camp. Despite the sombre theme, I would highly recommend a visit to Auschwitz and something that will remain with me for many years to come.
We combined our trip to Auschwitz with The Wieliczka Salt Mine, one of the world's oldest salt mines dating back to the 13th century. Descending 800 steps deep down, we were led through a labyrinth of corridors, admiring the intricate salt sculptures and displays telling the story about the myths and history of the mine. Highlights at roughly 100 metres underground included the amazingly colourful 9m deep saline lake and Chapel of St Kinga, a huge 11 metre high space adorned with grand staircase, altar, magnificent chandeliers and sculptures, all intricately carved out of salt. Fortunately, at the end of our 2.5 hour tour and despite jokes about having to tackle the infamous 800 steps back up to ground level, we were packed like sardines into miners lifts and transported back to the surface in a mere 11 seconds!
On our last day in Krakow we undertook a bracing walk around the city, starting at Warwel Hill, home to the beautiful Warwel Castle with its mixture of medieval, renaissance and baroque architecture and mythical Smok Wawelski (Wawel Dragon), who breaths real fire every few minutes – very exiting! Crossing the river via the Kladka Ojca Bernatka (Father Bernatek Footbridge), adorned with acrobats and offering delightful views along the Vistula River, we entered Podgorze. Once a city in its own right and former wartime Jewish Ghetto, Podgorze is home to the historic Apteka pod Orlem (Pharmacy Under the Eagle), Plac Bohaterow (Ghetto Heroes Square) and Schindlers Factory. This fairly run down area holds much history and is an interesting contrast to the 'nice' Old Town of Krakow. On our way back through Kazimierz (Jewish Quarter) and having been on our feet all day, we had to try one of the last local dishes on our list, Zapiekanki, a delicious baguette pizza which did not disappoint!
With reputation as a cheap destination, providing you stay away from the glitzy restaurants and bars of the main square, it is indeed good value for money with an amazing choice of bars and restaurants. Krakow also offers a variety of accommodation from hostels through to hotels and apartments. We chose an apartment right in the heart of the old town, which was a great base allowing us to easily pop back during the day and central to all attractions.
Visiting in December was lovely, with the city beautifully adorned in twinkling Christmas lights and a delightful festive bustle around the Christmas market. However, it was very cold and as a city ideal for walking, if not prepared to wrap up and brace the elements, perhaps a spring or summer visit might be better suited.
I would highly recommend Krakow as 3/4 day break. A beautiful city with a varied and interesting history, friendly locals, delicious food and good vodka!