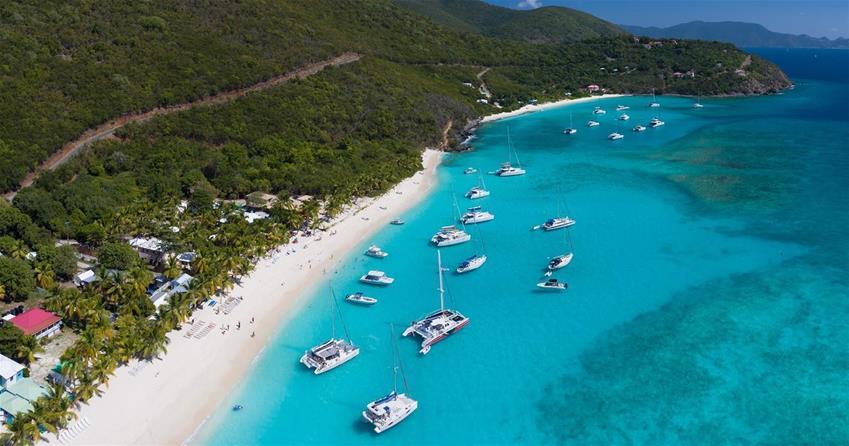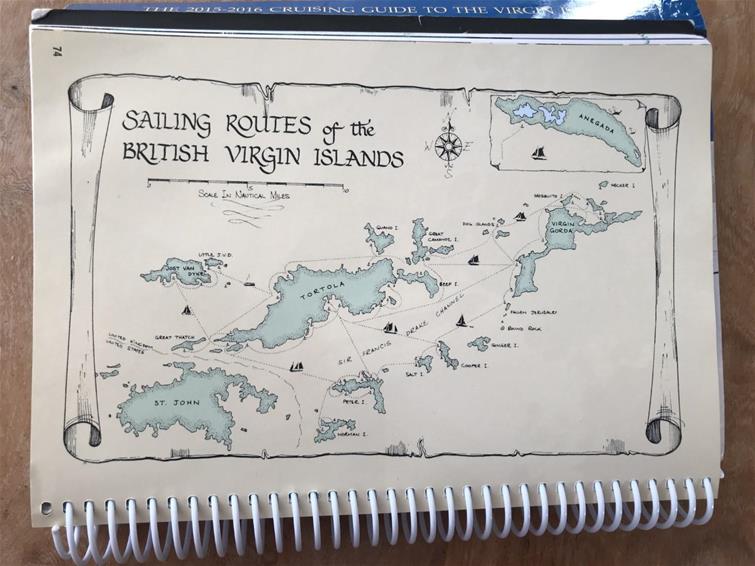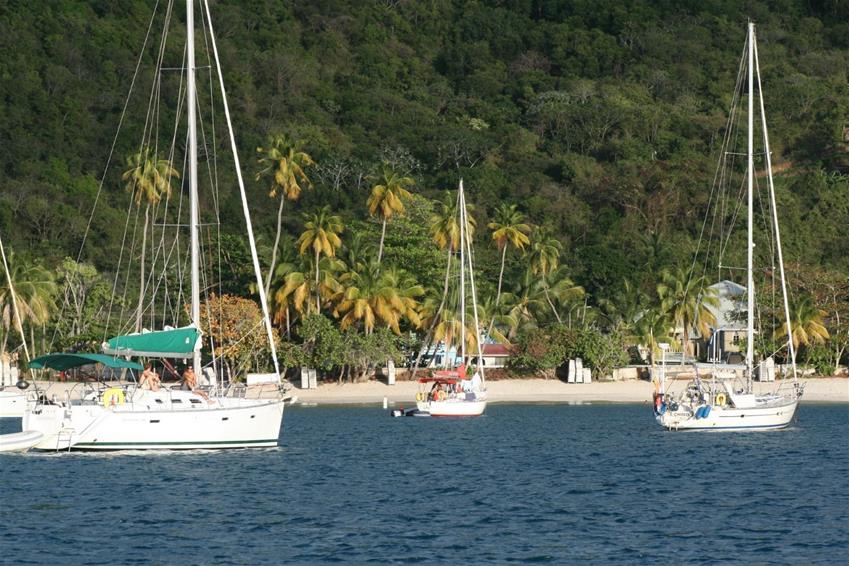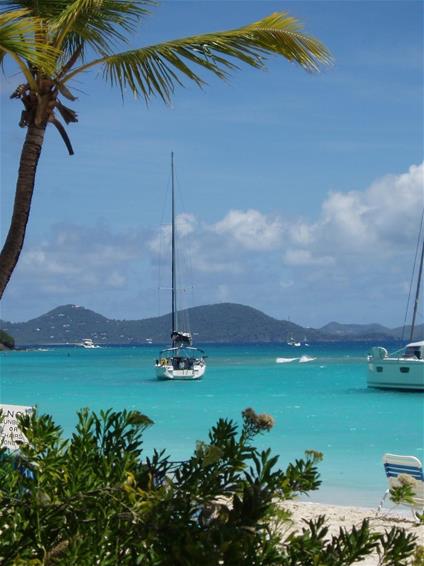 Having worked in yacht charter for many years I have had the opportunity to sail in many beautiful places around the world, with one of my favourites being the British Virgin Islands. With no direct flights from the UK it is not the easiest of destinations to reach, but the flight to Antigua and quick hop up the Caribbean island chain to Beef Island Airport is soon forgotten when slipping into the crystal-clear water for the first time or sipping your first rum sundowner!
With over 60 beautiful islands, the BVI is perfect for exploring afloat, whether as an experienced sailor on a bareboat charter, a novice aboard a crewed yacht or by basing yourself ashore and taking day trips to the various islands and bays.
One of the great advantages of a sailing holiday is the ability to mix anchoring in deserted bays with not a soul in sight, through to picking up a mooring in a busy harbour and enjoying all the bars, shops and restaurants ashore. Known for its abundance of beautiful beaches, super snorkelling and bouncing beach bars, it is hard to name just a few favourites…
Jost Van Dyke is home to many fabulous beaches and bars. White Bay is a quintessential picture postcard white sandy beach and home to the infamous 'Soggy Dollar Bar' – called so due to sailors swimming ashore and having soggy dollars in their pockets! Relaxing in a hammock or lazing in the shade of a palm whilst sipping a Painkiller is a must, although beware of too many Painkillers or you'll certainly be in need of the other type of painkiller in the morning! A new highlight we discovered on our last visit is the Bubbly Pool, a natural pool surrounded by large rocks, where waves tumble through a hole in the rock, bubbling up the water like a big human washing machine! No visit to JVD is complete without a night ashore at the legendary Foxy's - a great place to meet other yachties, enjoy a superb BBQ and dance the night away on the sandy dancefloor to a local band and sometimes even Foxy himself!
The sheltered lagoon of Gorda Sound always makes a good mid holiday stop. Bitter End is perfect for stocking up on provisions, water, fuel and taking advantage of the entertainment facilities. I always love a visit to Saba Rock, located on an island and only accessible by dinghy. With a friendly and relaxed vibe, it's a great place to while away the day or night and kids love the daily Tarpon feeding off the dock.
I was very lucky on one of my trips to visit Richard Branson's Necker Island. The private island is like nowhere else on earth, with the beautiful Balinese style Great House, accommodation cottages doted about the island and idyllic dining areas nestled amongst the beautifully tended gardens – you truly feel that if there is a heaven, this is it!
I recommended venturing to 'the drowned island' of Anegada. Located 11 miles north of Virgin Gorga, its highest point is only 28 feet and so the first thing you spot on approach are the palm trees, seemingly bobbing in the middle of the sea! Scattered with bars and restaurants of varying wallets, it is worth spending a couple of days exploring this quirky island, enjoying the pristine beaches, snorkelling over one of the many wrecks and eating fantastic lobster.
The Baths, back on Virgin Gorda, is always a fun excursion, following the crudely signed track through the large granite boulders, scrambling over rocks and through natural pools to Devils Bay. I recommend making the effort to do this at the very beginning or end of the day to avoid the cruise ship hoards!
Dotted all around the BVI are numerous beautiful deserted cays, such as Sandy Cay and Green Cay. Unless you know conditions will be benign overnight, they are normally only recommended as a daytime stop, but fabulous to be anchored off your own desert island.
With superb snorkelling sights in abundance, my favourites are The Indians, The Rhone and Monkey Point. Making a perfect lunchtime stop, it is worth getting to The Indians early to secure one of the limited mooring buoys to explore this interesting archipelago and some of the best snorkelling. The 150-year-old shipwreck 'The Rhone' is fun not only for the marine life, but for floating on the surface watching the scuba divers beneath explore the hidden remains of the ill-fated ship! Monkey Point is a little tucked away, although being one of the less discovered and thus less busy snorkel areas, it's fabulous and like swimming through an aquarium! There is so much amazing sea life in the BVI, it is common to regularly have dolphins playing in your bow wake, see turtles pop their heads up whilst anchored and have the chance to swim through beautifully coloured shoals of fish, see tuna, octopus, rays, lobsters, moray eels (not my favourite!) and shy nurse sharks.
There are many great bars and resorts dotted around the BVI who welcome sailors. The eco-resort Cooper Island is fabulous and worth a visit, either as a stop afloat or a night or two ashore pre/post charter. At the other end of the scale, no visit to the BVI is complete without an evening aboard the infamous 'Willy T's' at Norman Island. Only accessible by dinghy, as the sun goes down the action really gets going and not for the faint hearted! Awash with rum, pumping music and dancing flip flops, this is THE place to be, although will you be brave enough to jump off the top deck into the murky waters below?
The BVI is the perfect destination for sailing. Known for its relatively predicable wind, short distances between islands, numerous onshore bars and restaurants and overall stunning beauty, it is perfect for all levels of sailor and very popular with families. Kids and adults alike love the rich piracy and smuggling history, such as Dead Chest off Peter Island, home to Robert Louis Stephenson's ''Fifteen men on the Dead Man's chest. Yo-ho-ho and a bottle of rum!''
If self-provisioning it is worth stocking up as much as you can at the charter base or making a trip to one of the larger supermarkets in Road Town, as food can be expensive on the outer islands due to everything being delivered by boat. Water and fuel are also only generally available at the main marinas on Tortola and Virgin Gorda, so advisable to refill as and when you can to avoid having to make any unnecessary diversions.
''Most travellers come to hoist a jib and dawdle among the 50-plus isles. With steady trade winds, calm currents, protected bays and pirate-ship bars, this is one of the world's sailing hot spots'' – Lonely Planet