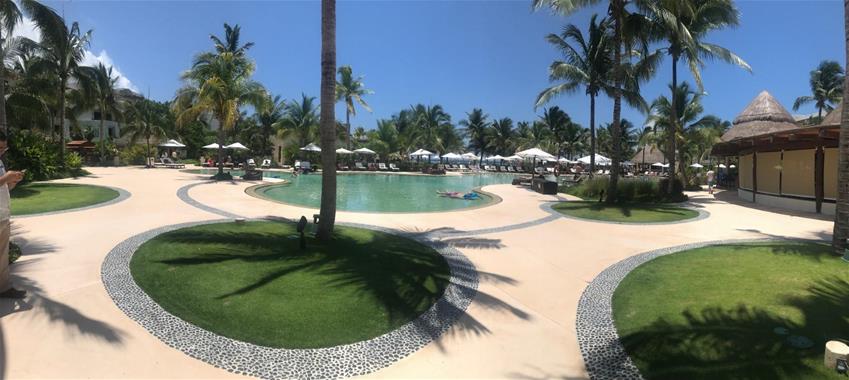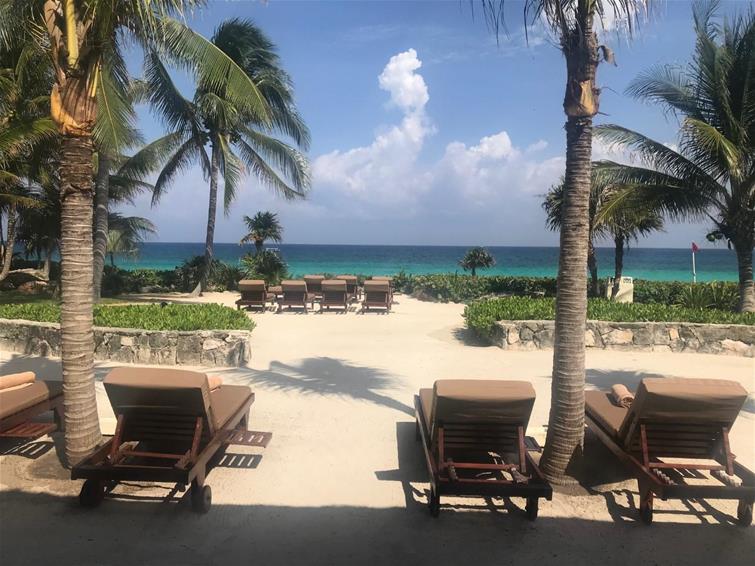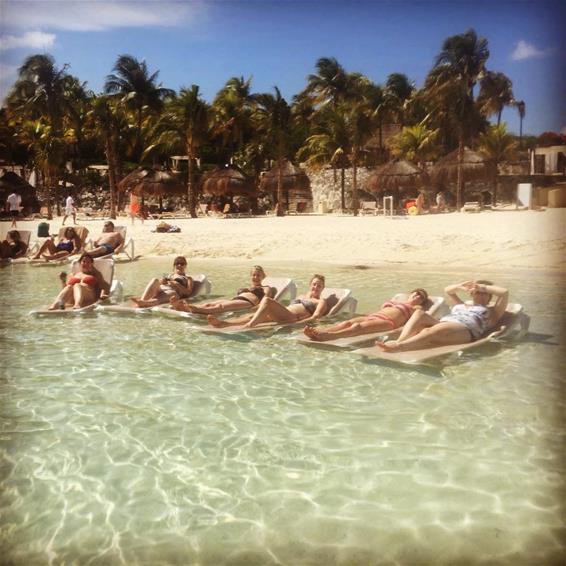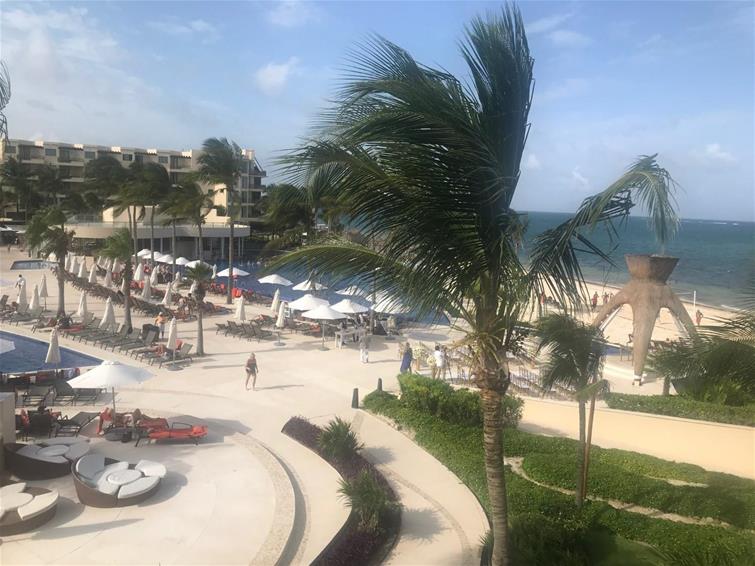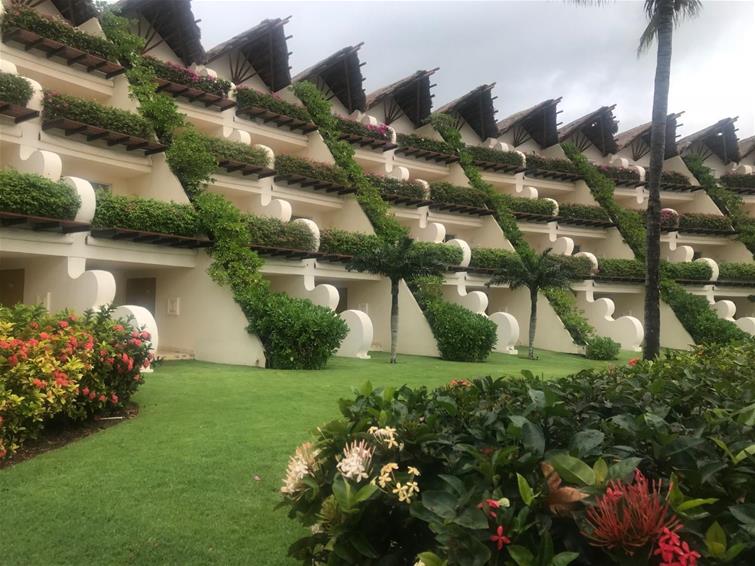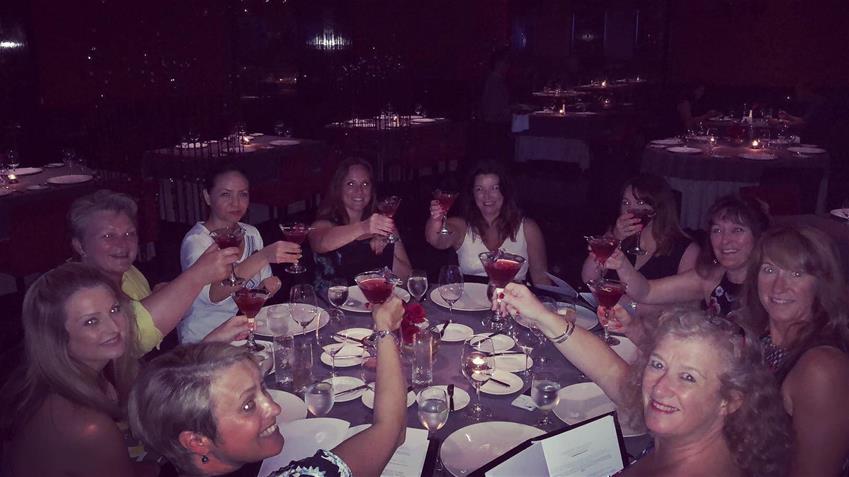 I was very lucky to win a place on a 7-night trip to Riviera Maya in Mexico. We departed from Manchester on a Thomas Cook flight and were lucky to be travelling in Premium Class. I was impressed and would recommend that you upgrade if flying Thomas Cook even if it is in one direction as all your food and unlimited drinks are included plus premium movies. We landed in Cancun and were whisked through customs very quickly and into our awaiting transfer to our first hotel, Dreams Riviera Maya which was a 20-25 minute transfer from the airport.
We arrived at Dreams Riviera Maya and were allocated a Preferred Club Ocean View room overlooking the beautiful beach. The rooms were fantastic, with fully stocked minibar and amenities. We had the afternoon at leisure whereby we sat on our balcony and watched a wedding taking place. We dined at the Himitsu restaurant on our first evening which specialised in Asian food.
The following morning I took a walk along with beach and had a look at two neighbouring hotels from the AM Resorts Collection: Excellence Riviera Cancun and Now Sapphire Riviera Cancun. Both were absolutely excellent and highly recommended. After a site inspection of the hotel and all that it has to offer we checked out and made our way to our second hotel, Occidental at Xcaret. We checked in and had our second site visit of the day around this vast complex. The Occidental Xcaret nestles in 200 acres of verdant jungle within an ecological and historical preserve once home of the Maya. We were given single basic rooms, but they were still very lovely and perfectly suitable for both couples and families. After our site inspection we spent a leisurely afternoon around by the pool. Our evening meal was at the a la carte restaurant which was situated in the Royal Level - this was absolutely excellent.
The following day we spent most of the day at the Eco Park which is situated next to the hotel. You can either walk to the park or catch a little boat from within the reception area of the main hotel. The park is very large and as the weather is hot I would recommend having an inclusive park ticket included with your hotel stay and spending a couple of hours each day or every other day at the park. Here you can see many shows, swim with dolphins and Manatees and experience a wealth of natural wonders and eco activities as you delve into the mysteries of the Mayan world. After returning from the park we spent a leisurely afternoon down by the beach which is a man-made cove with gentle shallow water, ideal for families with small children.
Our next hotel was a further 50 minutes down the coast to Akumal. We checked into the 5* adults only AM Resort of Secrets Akumal and first impressions were "wow". We were allocated the basic room and even these had the wow factor. As soon as we arrived we had a site inspection. The grounds of this hotel are quite narrow leading down to the beach but the way the hotel is set out would appeal to almost everybody. At the back of the resort is the reception area with many of the restaurants and bars plus spa and gymnasium. There are three pools, the first one you come across is at the back of the resort and is quiet and calming with very relaxing spa music playing. There is the middle pool and then finally the pool down on the beachfront which can be lively with activities throughout the day and live music, plus more importantly a swim-up bar. The hotel has a myriad of restaurants including French, Mexican, Asian and seafood cuisine. You have unlimited access to all the gourmet a la carte dining restaurants without reservation, unlimited international top-shelf spirits plus every other drink you can think of, 24-hour room and concierge services, pool and beach waiter service, daily refreshed mini-bar and endless activities and live nightly entertainment and also not forgetting free Wi-Fi! I absolutely loved this hotel!
On the first night we dined at El Patio Mexican Restaurant and on the following night at Oceana Seafood Restaurant and I can honestly say that I could not fault anything about the food or service at all. On the second day we left the hotel at 9am in the morning and enjoyed a lovely morning visiting the Tulum Ruins which was about 15 minutes car ride from the hotel. If you are interested in Mayan history, then this is a must but the best time to visit is first thing in the morning before the sun gets too hot. We arrived back at the hotel just before lunch and enjoyed a leisurely afternoon by the pool. We also hired snorkels and masks for 45 minutes to swim with the turtles in the sea - a must for any holiday here!
We left Secrets Akumal early the next morning to head to our last hotel - Grand Velas. Wow - this hotel was set in the jungle and consisted of three different areas. The Grand area is luxury on every level for adults only and a must if you're intent on spoiling yourself with the most amazing spacious suites with private plunge pool and stunning ocean views along with your own concierge/butler. The Ambassador level is beachfront and is conveniently located around the main pool and is suitable for both couples and families. Lastly the Zen area is situated in the jungle, less than a mile to the beach and again is suitable for families and couples as it is the ideal treat for peace and serenity. Families can be accommodated in family rooms which can accommodate up to 8 people and they also have access to a family pack which consists of stroller, highchair, tent, highchair, bottle steriliser etc. Amazing attention to detail. The kid's clubs are absolutely amazing, offering lots of activities.
The hotel has many restaurants and we were lucky to dine in Frida on our first night which is a world-class Mexican restaurant and Piaf on our last night which is an award winning French restaurant. There are lots of different activities to do within the resort and we were lucky to experience a mixology class, eco tour and eco-bites class. The weather wasn't great during our stay, so we also experienced the spa and enjoyed our last morning with a Water Ceremony. This is usually $80 but it is included if you pre-book a spa treatment. Again, very well worth the money. I would thoroughly recommend this hotel to anybody who requires an award-winning world class hotel which offers the ultimate luxurious all-inclusive holiday.