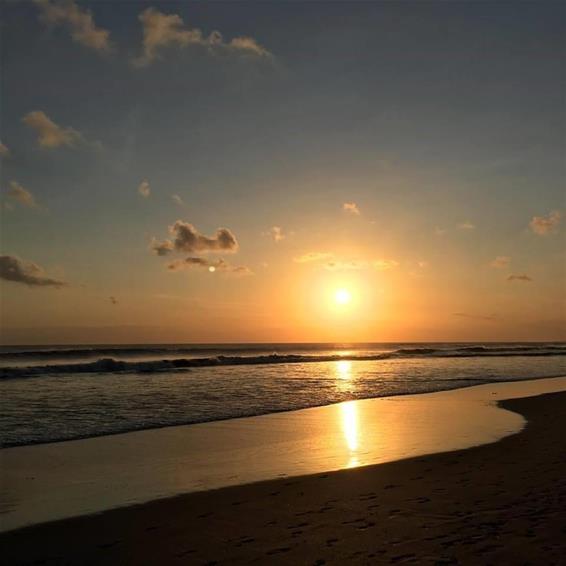 For our 5th wedding anniversary, we wanted to do something a little bit different. The brief that I received from my husband was that he wanted to go East, so out came the maps as I wanted to make the most of this trip. The mighty plan was to do Singapore and Bali.
Singapore has been on my bucket list for quite some time, to be there for the Grand Prix to be exact, however having our anniversary in June, meant that we didn't want to wait until the September race-day to go away.
There are many routes that we could have taken, but I chose flights with Emirates via Dubai from our local airport, Birmingham. I have always dreaded indirect flights as the part that I hate the most about flying is the take-off and landing, so this was going to be a big challenge for me. In truth, it was brilliant. It allowed us to break the journey up and meant that we were not in the air for so long and could stretch our legs by walking around on solid earth for a while!
The transfer from one aircraft to another was very easy. Signs are clearly marked and there were lots of airport staff around to ask should you need help. We packed a new set of clothes and a few essential wash things (including toothpaste) in our hand luggage, meaning we could freshen up in between the flights. At Dubai Airport, there are shower facilities for a fee. The main thing is to allow plenty of time if you do want showers, as the queues can be quite big.
Departure from Dubai was on time and everything ran smoothly, so next was the 9-hour journey from Dubai to Singapore. We stayed 3 nights in Singapore at the Marina Mandarin Hotel in a Marina Bay View Room. I had pre-booked a taxi to take us from the airport direct to the hotel as after travelling for so long, we didn't want to hang about waiting for taxis. Very easy to locate and took us straight to the door of the hotel.
This was the furthest east either of us had been, so I was keen to make sure that our first day was not overloaded. I had a feeling we wouldn't know what time of day it was, so I had planned a leisurely journey on the City Sightseeing Bus for the first morning. This meant we could find our bearings and get to see some important landmarks that we would eventually go back to.
You can't go to Singapore and not visit the world-famous Raffles Hotel. Most tourists go in for their famous Singapore Sling, but a friend recommended we go for Afternoon Tea. As this was a special occasion, I thought this was a brilliant idea. It was fantastic! Featuring exquisite teas, Champagne, classic sandwiches, home-baked scones and cakes, and seasonal treats in a stunning heritage setting.
Next, we visited the Gardens by the Bay. For this I can highly recommend that you pre-book your tickets as it gets very busy. Of course, we had to visit the Marina Bay Sands Hotel (most famous hotel in Singapore, other than Raffles). Soar 57 levels above the heart of the city as you capture the moment of a lifetime at the stunning Sands Skypark public observation deck. Alternatively, if you approach the Ce La Vi Lounge desk in tower 3, you can pay an entrance fee of $20 per person, but this contributes towards a cocktail in the Ce La Vi Lounge. The views are amazing, and a top tip is to get there for around 5pm so you can sit and watch the sun setting, then watch in awe as the lights start to come on in Singapore Financial District and the Marina light show. Prices for drinks are reasonable, but for a drink with a view, totally worth it!
Fact: It is illegal to take chewing gum into Singapore!
Our next destination was Bali. We flew directly with JetStar, who are much like a low-cost equivalent here in the UK, but with customer service that was faultless. Fantastic from start to finish and only a 2.5-hour journey. Upon arrival into Bali, we were met by the ground agent who then took us to our driver waiting in the parking lot. Some hotels provide free airport pick-up's so check this out before booking a standalone transfer.
We stayed 3 nights in Ubud at The Kayon Resort in a Kayon River Suite – wow! It has got to be the most tranquil hotel I have ever stayed in. Amazing service, views, food and a beautiful room. A small family run hotel, but this was perfect.
While here, we hired a driver for the day with an English-speaking guide. The day was great from start to finish. We were taken on a journey through the unspoilt Bali, with a lunch that had views that were just jaw dropping.
The holiday did not end here; we then moved down to Seminyak for a 5-night stay at the Seminyak Icon Villas, with our own private pool. This was great as we were a short walk away from the very busy streets that had many shops, bars and restaurants. The beach was a little further and you could walk this or take the free villa shuttle bus. Bali do things differently, where they have more beach clubs, allowing access to pools/bars/food and live music in most daily; all while overlooking the long stretch of Bali beach.
All in all, this was an unforgettable holiday and one we will always remember.