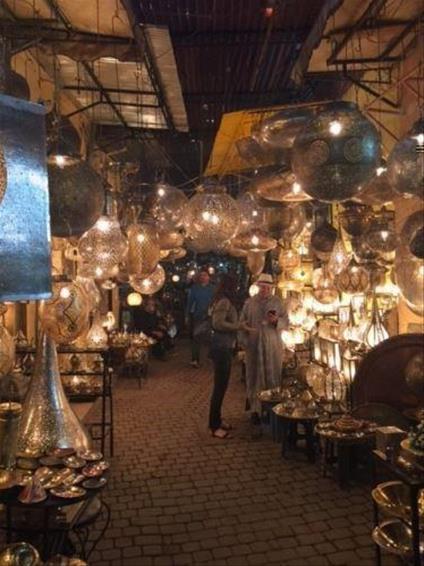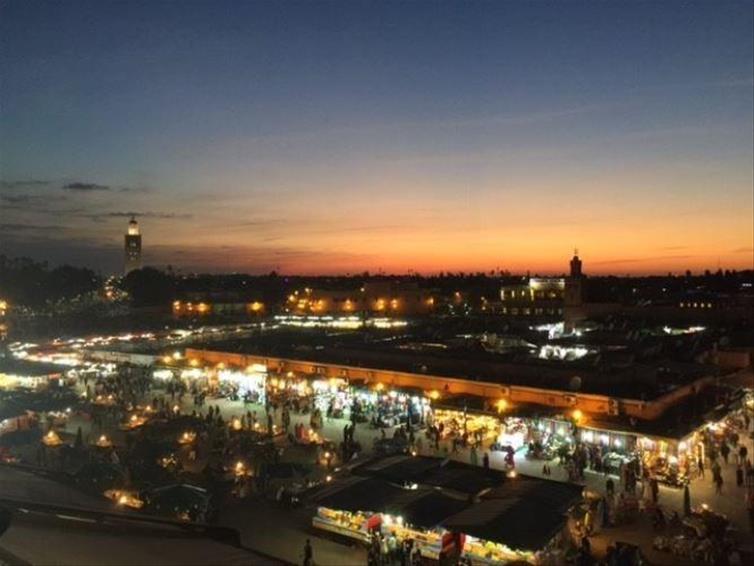 I was really excited to be on the Trip to Marrakesh and Essaouira with 40 fellow Travel Counsellors. It was always somewhere I wanted to explore but never got round to it.
My journey started on the 22nd March with the early flight out of Gatwick to Marrakesh. Upon arrival we were greeted by our hosts for the next few days and taken straight to the Movenpick Hotel Mansour Eddhabi, our home for the next 3 nights.
First impressions of the hotel was that it was on a large scale and very grand. My room was very comfortable overlooking the swimming pool to the rear of the property. After a very quick lunch we were separated into groups and taken to the Medina to stroll through the famous souks (Market). I was really looking forward to this and I was not disappointed. It was vast in size and I would strongly recommend doing want we did, and hiring a guide, not only do they know the area like the back of their hands, it also allows you to wander round admiring all the goods on offer without being pounced on every 5 seconds. One word of warning, the streets are very narrow and its not unusual for mopeds to go hurtling by, stopping for no one so keep your wits about you, and savor the smells, sights and sounds, it's truly amazing! After the souks we found ourselves in the famous Jamaa El Fnaa square, the whole area is buzzing with street traders, food stalls and even the odd Sheep! I truly enjoyed this and wish we had more time.
Next stop a Mint Tea overlooking the whole square from a roof terrace, and then dinner at the Salama, a Moroccan feast followed, complete with belly dancing!
The next morning saw the first hotel visit of our trip, the 5* Luxurious Royal Palm. This hotel is situated about 20 minutes from the center of Marrakesh and is simply stunning. With a 18 hole golf course on site and beautiful manicured grounds this is the perfect getaway for some winter sunshine. The hotel features 134 suites and villas and offers an exceptional level of service.
Next stop the 5* Royal Mansour. This hotel offers all "Riad" accommodation, which means Private residences. This would definitely appeal to larger families who usually take villa holidays, the property only offer 54 Riads, so a small property but with an exceptional level of service.
After the hotel visits the group split in 2. One group went to a Moroccan Cookery class and I went to sample Go Karting, which I really enjoyed but I was rubbish at it!
Dinner this evening was at Le Palace, Marrakech's Premier club restaurant. The food was delicious and we danced the night away into the early hours. Great fun was had by all.
Next morning saw us leaving the hustle and bustle of Marrakech and heading out into the foothills of the Atlas Mountains to visit the L'Amandier a brand new Boutique hotel, which didn't disappoint. Approx 2 hours from Marrakesh this would be the perfect twin Centre option to relax after a few nights in Marrakesh. Recently opened we were shown around by the owner who clearly has a passion for the property. I must admit the hotel was stunning and has the most gorgeous views of the Atlas Mountains.
Dinner this evening was at the Restaurant Jad Mahal.
After our 3 nights in Marrakesh it was time to head out to the coast and our next stop Essaouira, situated approx. 3 hours from Marrakesh by road. On route we stopped at the Argan Oil factory and watched how the product is painstakingly made by hand, each process on display for us to watch, all the products can be bought in the shop after.
We also managed to see the famous "Goats in trees" which is quite the tourist attraction. Be warned though if you stop to take photos the locals do expect some form of payment for this!
We visited the Sofitel Essaouira Mogador Golf & Spa hotel which is a lovely hotel set on its own golf course and a few minutes drive from the Beach.
Our home for the evening was the Atlas Hotel & Spa. After checking in we were taken to the Medina in Essaouira and had free time to wander around. The souk here is of a much smaller scale and doesn't quite have the same ambience as the one in Marrakech.
Our final evening saw us dining at the L'Heure Bleu restaurant offering an infusion of Moroccan and French Cuisine.
My time had come to an end and I thoroughly enjoyed my visit to Morocco. The weather didn't perform for us which was a shame, as normally temperatures in March are 25 degrees, whilst we were there it was quite chilly with very similar weather to what we had back home. Summing up I would strongly recommend Marrakesh to anyone, I never once felt unsafe and I was amazed just how clean the City was. There is accommodation to suit all tastes and budgets and there is so much to suit everyone. So if you're looking for somewhere different give Marrakesh a go, you won't be disappointed!