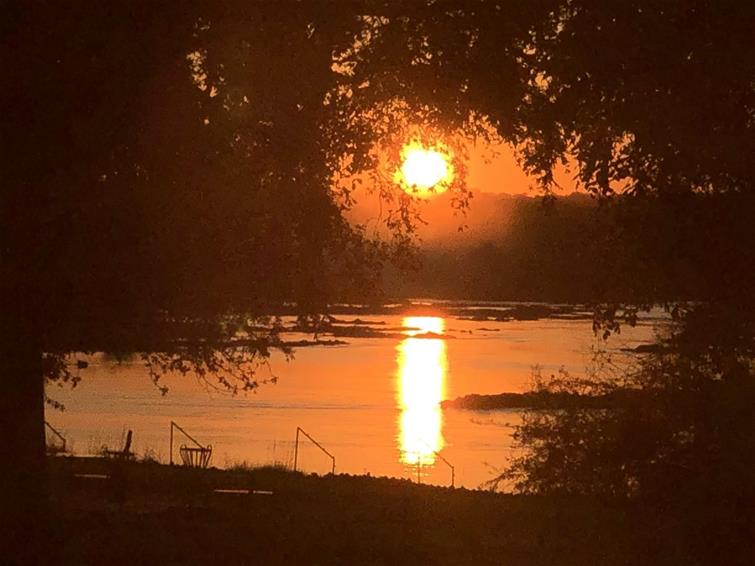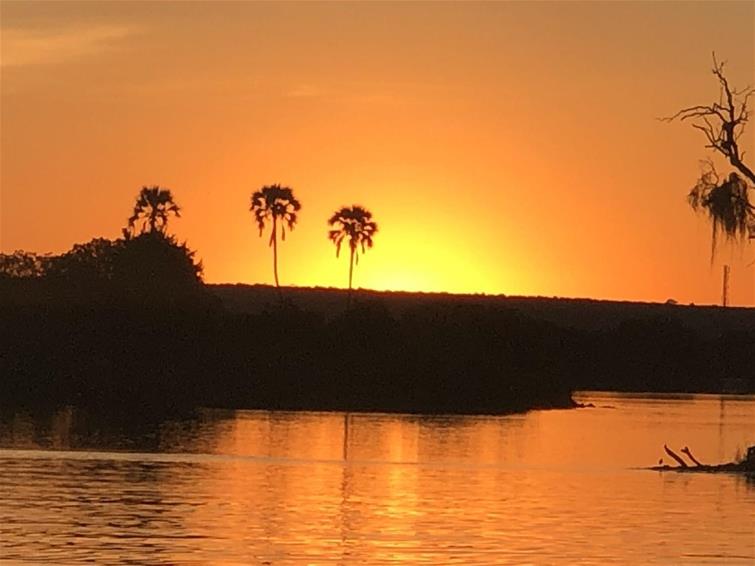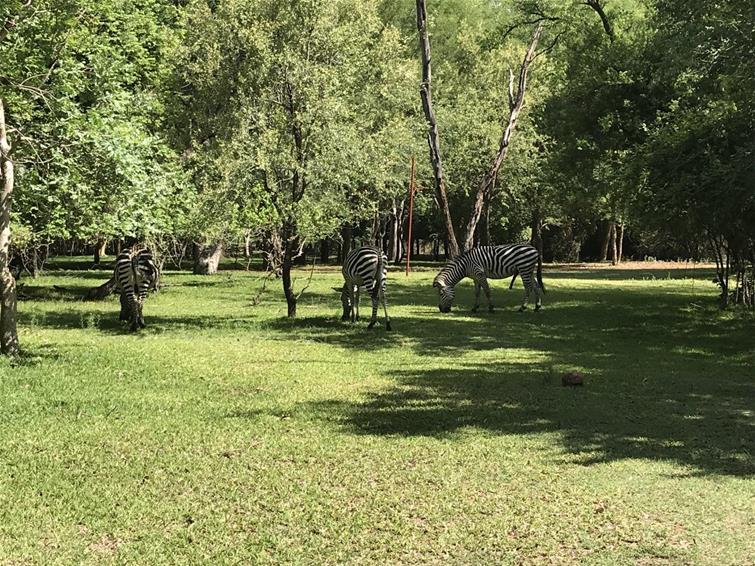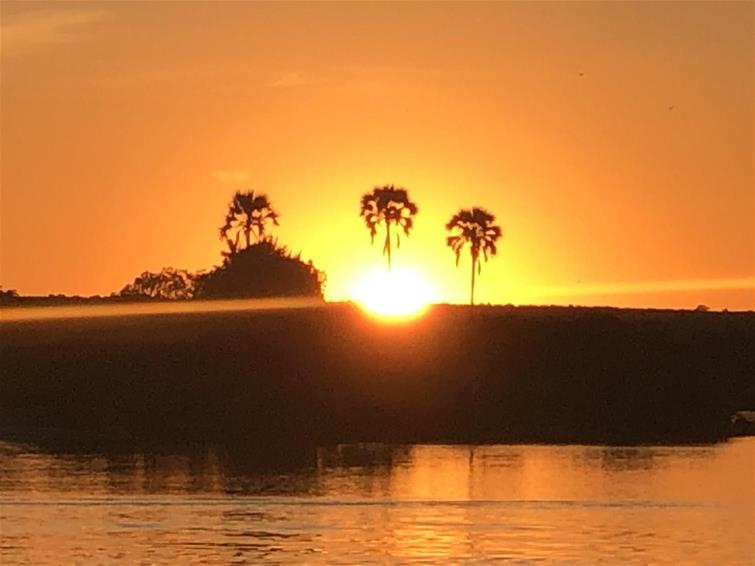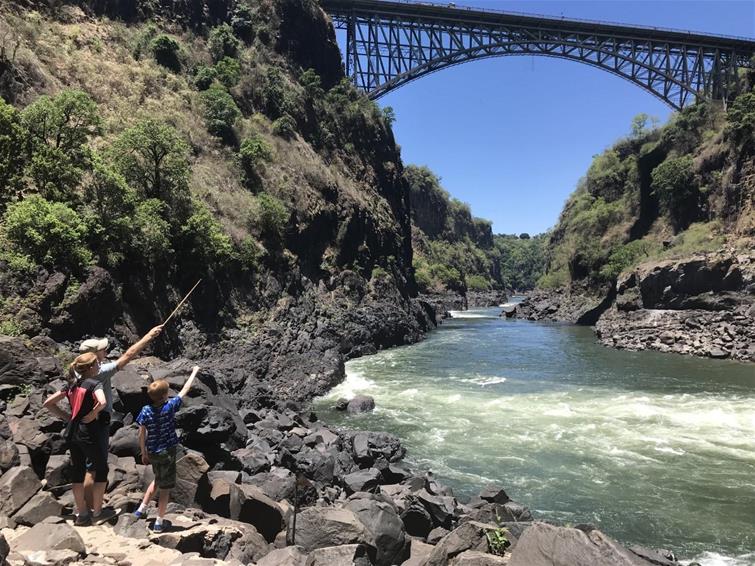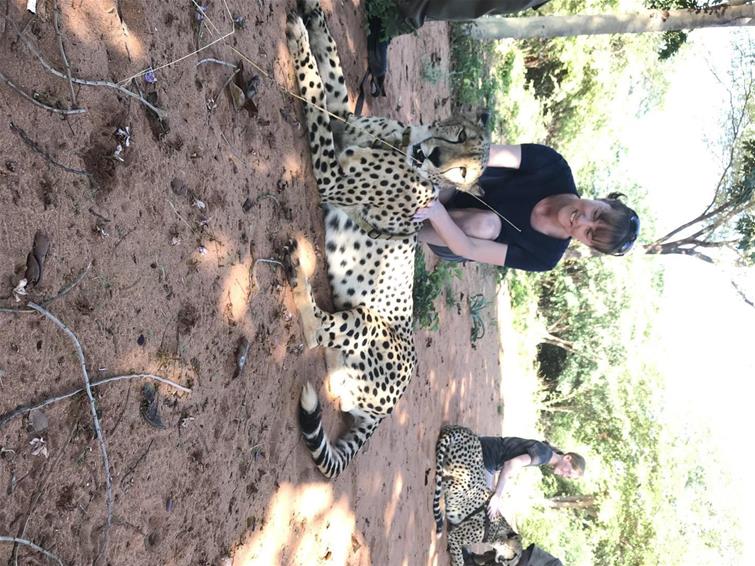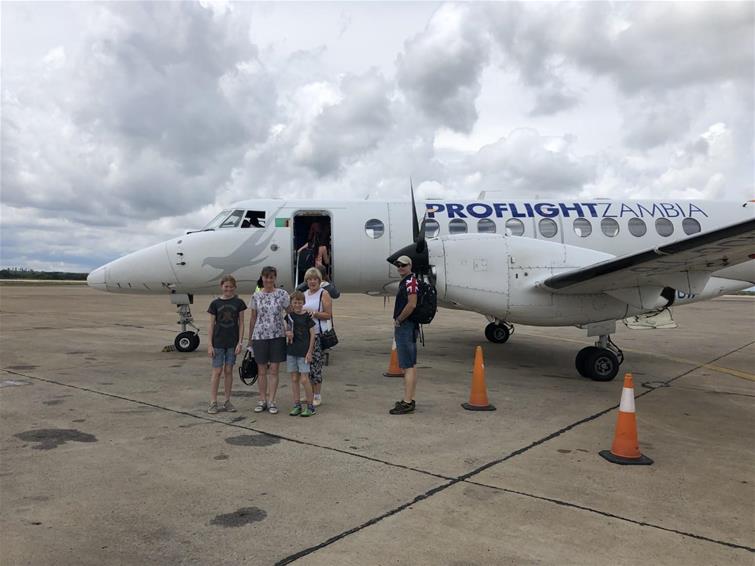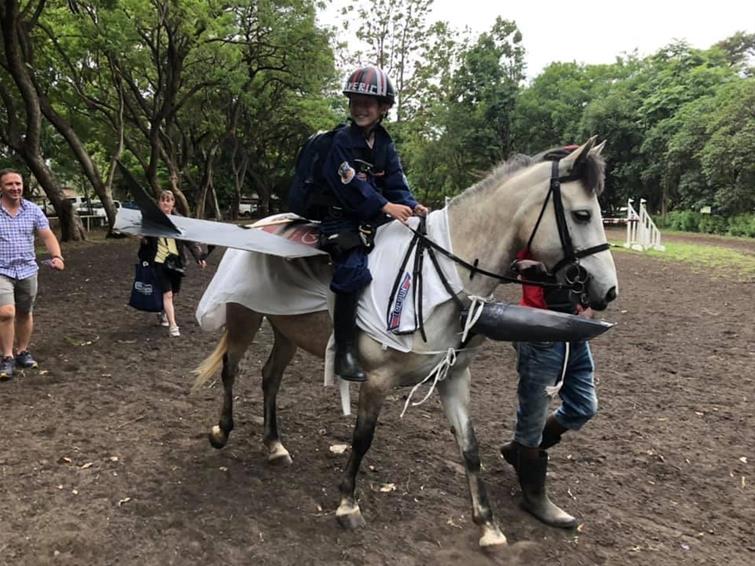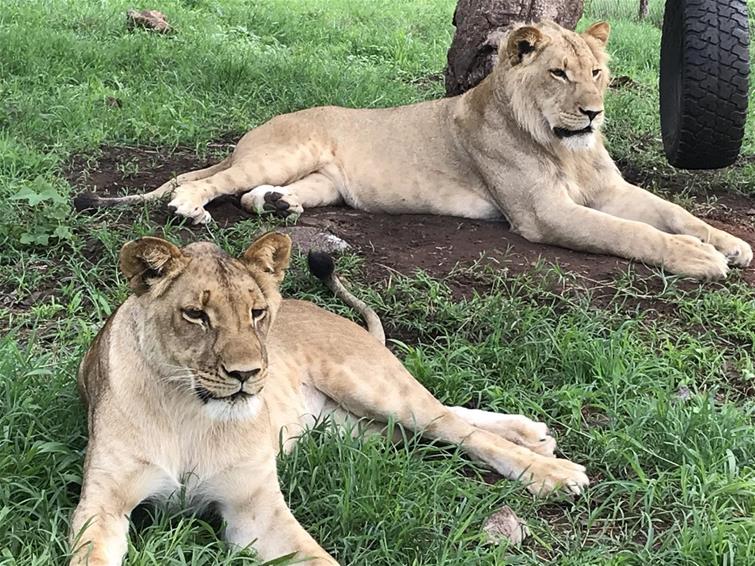 Our first task was to create costumes for my niece and nephew for their show jumping show which took place during our first weekend. The theme was movies. My nephew decided that he wanted to be Maverick from Top Gun and my niece wanted to be one of the pink ladies from Grease. It was a team effort, my sister, my mother in law and my husband set to work to transform a horse into a fighter jet and to make a fighter pilots costume for my nephew. The effort was very worthwhile as they came first! My niece's costume was a lot easier, other than she wanted to dye her pony pink as well! All in all, a busy, but great fun weekend.
The next few days were spent on the farm, just doing family life, however there is never a dull moment with all the animals to look after!
After our first week we took a short 1-hour flight on a 29-seater plane to spend a few days in Livingstone at Victoria Falls. We stayed at the AVANI Vic Falls hotel which is very close to Vic Falls and included in the rate is entrance to Vic Falls as many times as you like. After checking in, it was just a 5-minute walk to Vic Falls – a breath-taking experience. It was then time to have a relaxed lunch sitting around the pool at the hotel.
Our first evening we went on a breath-taking sunset river cruise on the mighty Zambezi, we saw the most spectacular sunset as well as the abundant wildlife. The evening finished off back at our hotel, sitting by the pool listening to Havana music and watching my husband, niece and nephew swimming under the big African starlit sky and trying to recreate the iconic Dirty Dancing lift!
The following morning, after a delicious breakfast, we took a walk back to Vic Falls, this time we walked to the end of the Zambian side and witnessed some spectacular scenery and the awesome power of the mighty Vic Falls.
Our next little adventure was a trek down into the gorge to a place that has been named 'The Boiling Pot'. The scenery again was amazing. After our trek, a well-earned relaxing lunch and swim back at the hotel was needed! Our afternoon was an experience we will never forget. We visited a conservation and breeding project for lions and cheetahs where we were very lucky to be able to interact and walk with the cheetahs. The cheetahs we walked with will soon stop interacting with humans to prepare them to be released into the game reserve. To top off our day we enjoyed a fabulous meal at the Royal Livingstone hotel next door, overlooking the Zambezi river watching the sun setting with the odd zebra or two wandering around!
Back to the farm, where we spent the remainder of our time, there was always something going on. The orphan kudu called Shambi, who roams around the back garden is still given a bottle of milk twice a day, she doesn't really need it now, but it is her treat! Then there is Zippy, the orphan Zebra, also roaming around the back garden, who one afternoon decided he wanted to be a horse and jumped the electric fence into the horse paddock. The next couple of hours was interesting, spent rounding him up to get him back into the garden!
We regularly wandered up to the lion enclosure to see the now 2-year-old lions, who we were fortunate enough to spend 10 days with when they were 12 weeks old and help hand rear them. They hold a very special place in our hearts for the once in a lifetime experience, they gave us. They are of course now too big to have on our laps, but when we go to their enclosure and call them, they do still come to see us and rub themselves against the fence to be stroked. The giraffe, on the other hand were very difficult to find! Every day we drove past the area where they lived on the game farm and never saw them, they are very good at hiding themselves in the trees. On a couple of occasions, we took a drive into the game farm to try to spot them, but still didn't find them. Early on our last morning, my brother in law and I drove into the game farm and finally I saw them, they are such beautiful majestic animals.
One morning, I had a lovely ride out in the game farm, just my niece and I, a special auntie and niece couple of hours in a beautiful setting, spotting wildlife along the way. We spent a fun evening with the neighbours, having a gingerbread house making competition, which was rather messy but a lot of fun and then a delicious traditional African Braai (BBQ!)
We did also have to venture into town for shopping, even though there has been a tremendous amount of development over the last few years with big shopping malls, they still haven't caught up with our facility of on-line grocery shopping! We also ate out in town a few times trying some of their newly opened restaurants, which were great.
Life is very different out there, but I absolutely love it. If you have always thought about a safari in Africa, then I can't recommend it enough. It is a truly amazing experience.