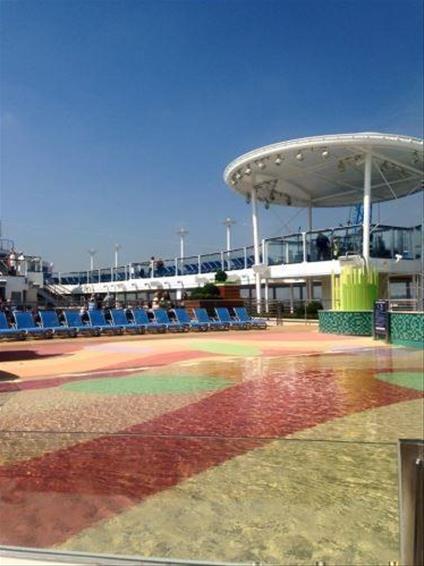 I was so excited to be invited on board Royal Caribbean's Anthem of the Seas for her naming ceremony. She is a very impressive ship and has quite an impact before you even board! I sailed through check-in in just minutes and was given a warm and friendly welcome at every stage.
Our Cabin was well appointed, with ample storage and had a really spacious balcony. The ship's public areas, were bright, modern and comfortable. The glass lifts and colourful modern art, make a strong impact and show the attention to detail that has been applied in the design of this ship.
After checking out the Flowrider, Skydiving, climbing wall and bumper cars - it was time to head to the Spa! The friendly therapists explained the wide range of treatment on offer. Just time for a cocktail from the fascinating Robotic Bar, before taking our seats for the momentous naming ceremony, officially welcoming The Anthem in to the fleet.
The next day I was able to taste from the menus all 18 eateries, my highlights being the Antipasti from Jamie's and the amazing Shrimp Shumai from Silk. The choice was endless, no better way to round off a lunch like that, than with a fresh detox smoothie in the beautiful Solarium.
To tear you away from the incredible food and fantastic service, there is some first rate entertainment on offer. I sat down to a quality production of We Will Rock You and on to the Cabaret and choice of music venues for the evening.
The Anthem of the Seas is breathtaking, her facilities, detailed design, but most of all the level of service - makes her an excellent choice for your cruise.