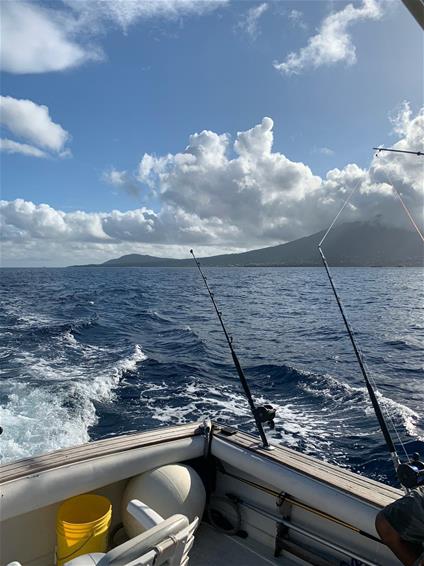 My husband is a keen angler and was excited to experience fishing in the Caribbean. Whilst he enjoys fishing from the beach along the Kent coast, he was keen to catch a new species – our son was keen to fish too and my daughter and I were happy to have a day on the sea with an amazing view!
Our skipper, a well-known champion fisherman on St Kitts & Nevis, Captain Clivin Christmas was very knowledgeable. The Islands host a popular boat fishing tournament each and he is very well known due to his successes in this competition. The tournament starts in November and it is a international tournament with boats coming from all over the Caribbean. We all set off around 8am from the hotel and took the short drive down to Oualie Beach. We were met by Clivin and his first mate Dave, and both made us very welcome. We headed out to deeper waters in the Caribbean Sea, it was a rolling a little but calmer on the way back in.
The Boat 32ft Black Fin boat had plenty of room, a toilet and seating with the option of cover from the sun and a supply of soft and alcoholic beverages. All equipment was supplied along with bait. We just brought snacks for the children. 5 Rods were in use along with Penn boat reels, wirer traces and lures with fish bait, some lures were weighted.
To see the beautiful views of both the Islands as we travelled out to deeper waters was amazing and added to the experience. We had views of Martinique too… Plus lots of flying fish!
We spent 4 hours fishing and in that time, Andy caught 3 barracuda which gave a great fight and added new species to Andy's list. My son, age 7 had the opportunity to fish and caught 2 barracuda and a rainbow runner. Of course, there was a HUGE bite that got away… All fishermen have that tale! Clivin thought it was a Wahu Wahu – it was a big fish but slipped the line before it could be landed.
Smaller fish are caught and released in St Kitts and Nevis, large specimens of eating fish are kept by the crew and sold to local restaurants – there are charters that offer, catch, fillet and clean for you to take and cook yourself.
We spent four hours out at sea, getting back just before lunch. Black Fin Charters were great, both Clivin and Dave were friendly, helpful and happy to chat with the children, and to answer all their questions, (with my 7-year-old always has plenty!). They talked passionately about the area and the fishing and made the morning a great family experience.
No 500lb sea monsters this time, but there was that one that got away…
If you are interested in Big Game fishing, not only in the Caribbean, but all over the world, then do not hesitate to get in touch on 01843 807910