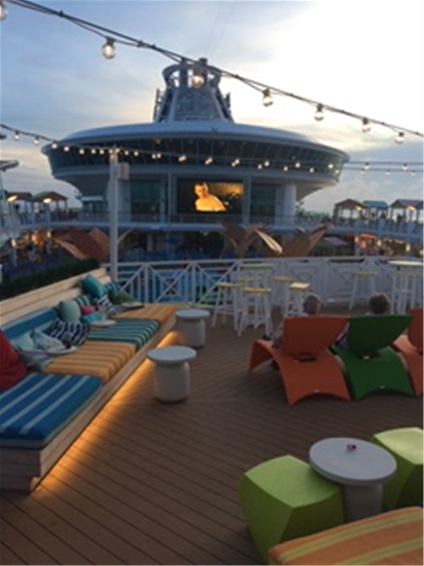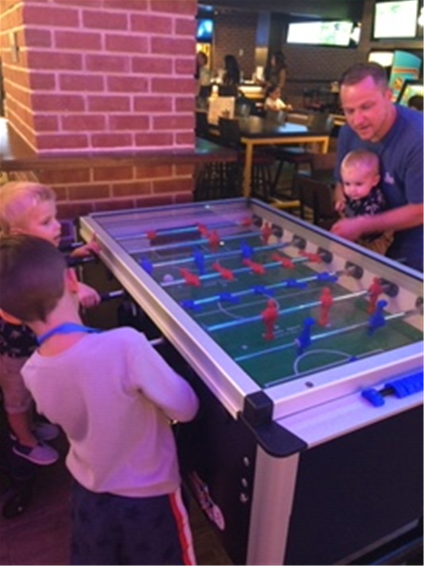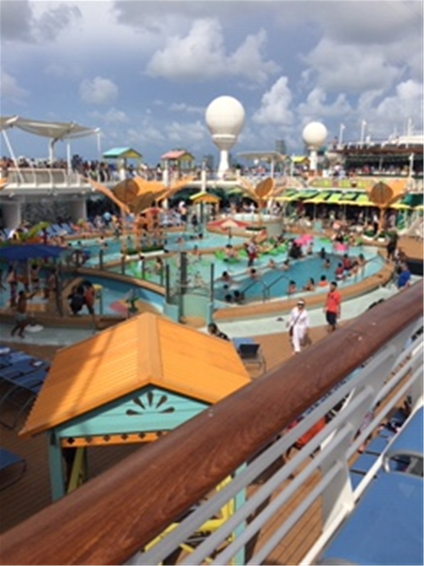 With half term holidays being around every 6 weeks, let's face it, to go away in any of the school holidays is costly.
I recently calculated that for a family of four to see the Lion King in London's West End is £237, Matilda £120 (cheapest tickets), roller-skating for an hour or so is £33, bowling £21, cinema £30, Alton Towers £125 and a meal out from £60. This adds up to an incredible £626.00 per family and doesn't include lunch, snacks such as popcorn, travel, overnight stays, treats etc.
I took my boys on a Royal Caribbean cruise last summer and the value and family fun are incredible.
When you break down what you can spend by not holidaying in the half term holidays, a cruise is amazing value for money.
-You can sail from Southampton – great if your nervous about taking kids on a flight and no restrictions on luggage
Going ashore Other than days at sea, the ships sail through the night, meaning you wake up in a different destination every day. The days at sea allow you to experience the onboard facilities and then get out and about on all sorts of trips with the kids. There's plenty to choose from and in some ports its safe and easy to get to places on your own.
Many destinations will offer anything from all day sightseeing on a guided tour to shopping or beach days.
Royal Caribbean offer trips into their exclusive island, a perfect day at Cocoa Cay, offering trips into the waterpark, adults only cabanas, the beach and swimming pools.
Dining Imagine going to a good quality restaurant every night.
We ate in the buffet restaurants a couple of nights and every breakfast as it was easier with our young boys and even these are amazing. A great choice of food at excellent quality. On all cruises you have the option to eat in the main restaurant, included within the cost. These offer a 3 course, menu style dining. Again, exceptional food but this time alongside exceptional service.
During the day there are ice cream stations on most ships and the snack facilities are amazing if you don't want a big meal. My boys loved choosing from the Mexican station and eating it on their sunbed whilst watching the outside cinema.
You do also have the option of other restaurants, a payable extra and a la carte in style. Sindhu restaurant is one of my favourites, found on board P&O. Other options include things such as Jamie Oliver's chops grille and Marco Pierre White.
Entertainment The evening entertainment on most ships has a choice on each deck. From the British pub with karaoke, a robot serving cocktails at a bionic bar to the main theatre where the shows are as good as or sometimes better than west end and Vegas style shows. The theatres have plenty of room for families and one evening my youngest son absolutely loved sitting in his pushchair and watching the dancing on ice show.
All Royal Caribbean ships have a royal promenade with a live band, shops, café style snack places and a bar. My boys loved the foosball table and giant jenga
And then there's the rest of the facilities….
Rock climbing walls, ice skating, break out rooms, bumper cars. Disney cruise line pull out all of the stops with the characters on board, Norwegian cruise line have contracts alongside Nickelodeon but to name a few.
Teenagers will love their own clubs with playstations, the flowrider experience and even crazy golf for all the family.
Whilst the kids are having fun, Mums and Dads are taken care of too with the spa, pools, adult only decks and lots more.
We did allow our boys to go to the kids club and creche for a couple of nights so that we could enjoy a meal and a drink for just a couple of hours. The creche were fantastic in asking about routine, evening 'putting them to sleep' at their normal time. While the kids are busy the rest of the family can relax or take part in one of the many on-board activities for adults, safe in the knowledge that their children are close by, in good hands and having fun.
Service On all cruise ships you can expect nothing less than the best service. You will have your own room butler to look after you throughout your cruise and will not only make up your room in the day but also the turn down service a night, complete with chocolates on the pillow.
Everyone always says hello and greets you with a smile. You are always asked about your day, whether you have stayed on board, or ventured out on an excursion and there is always someone on hand to guide you when you're lost around those massive cruise liners!
When we recently cruised with Royal Caribbean, we had just ordered our food in one of the main restaurants when our youngest son decided it was the right time for a tantrum! The restaurant Maître de made a point of coming over to us and said, I have grandchildren around the same age, We've all been there with our children, please don't worry about noise or if he doesn't eat, just sit back, enjoy your dinner, if there is anything he wants to eat, we'll go and get it, if you need to go back to the cabin to get toys, we'll keep your food warm. He totally put us at ease, and I think I'll always remember his kindness as some of the best service I've experienced.
When you consider what is included in the price; accommodation, travel, food and drink (varies per cruise line), on-board activities and entertainment, taking the family on a cruise holiday not only saves money but surpasses any other holiday option in terms of value for money.